Kiteboarding is an exciting and addictive sport. It can be practised across many disciplines such as in the waves, big air, foiling, wakestyle and racing. Whether you're looking to get into it or eager to progress, we have put together some of the most frequently asked questions. Contact us for any further help.
1. Who can kiteboard?
Kiteboarding/kitesurfing is for anyone reasonably fit, comfortable in the water, and keen enough to persist and learn. For the smaller groms, we require a minimum weight of 40 – 45kg.
Technique and coordination are a lot more important than strength.
2. Is kiteboarding difficult to learn?
No, however many factors can impact the learning timeframe; the rider's commitment, availability, environment, and most importantly the weather – since the sport is dependent on the correct wind conditions.
When these things fall into place, learning to kiteboard is an achievable challenge and extremely addictive! Our IKO-qualified instructors help make the learning process easier, fun and safe!
3. Is kiteboarding dangerous?
With a responsible approach, no, but lessons with a qualified instructor are essential for beginners! A qualified instructor will cover all the safety procedures and key information required before you can go out on your own. This will increase the student's understanding, motivation, and skills to avoid dangerous situations. Info on lessons can be found HERE.
4. Do you need a lot of upper body strength?
No. This is a common misconception. The majority of the power from the kite is directly transferred into the harness, not your upper body. Isometric endurance in the core/lower body is helpful at the start when coordinating the kite, power, direction, and stance, although relaxed technique and practised coordination takes over the need for brute strength.
5. Will I fly away into the ocean?
No. Kiteboarders only go out in safe and adequate wind and weather conditions that match their experience and abilities. Ensure you know your self-rescue technique and how to read the wind strength and direction. Your qualified instructor will cover this in lessons. For example, if you imagine yourself standing on the beach the wind may blow you toward the sand (onshore) or toward the ocean (offshore). Kiteboarders only kite when the wind is blowing towards the sand to always allow a safe return. We do not kite when the wind is offshore. In some places over the world, the exception is whether a boat is available for rescue.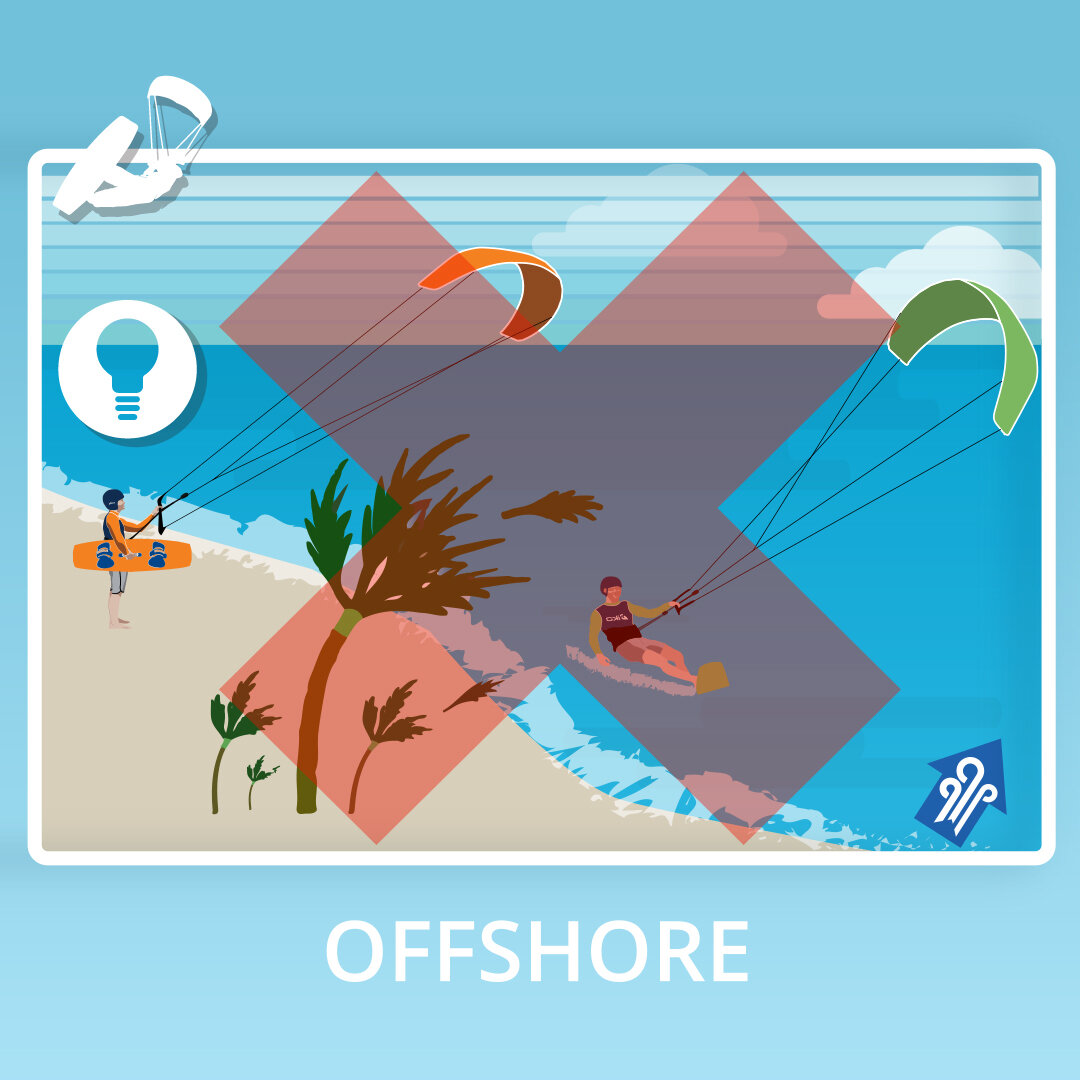 6. What wind conditions can I go out in?
As per Q5, think first about the simplest scenario of the wind blowing towards the sand (onshore) or towards the water (offshore). Now, we also have cross-shore (directly along the shoreline, left or right) and cross-onshore (on an angle towards the sand) – these winds are ideal for kiteboarding! Not only will you be brought back to the shore, but also winds coming from the ocean are more consistent than if coming from the land and obstacles. We don't kite in offshore winds, as it is unsafe and difficult to return. Direct onshore wind is also not ideal as it will cramp your style and you end up on the sand too quickly. If you are unfamiliar with your location, make sure you ask for advice about potential hazards.
Depending on your weight and kite size, you will have a minimum and maximum suitable wind strength. In stronger winds, you would require a smaller kite with less power and vice versa. Generally speaking, an 80kg rider on an 11m kite would be able to kite roughly between 16 and 22knots.
7. Does previous experience in other board sports help with kiteboarding?
Yes, previous board sports experience will help your board control. Although kite control is key in kiteboarding, so we recommend using a Trainer Kite to have these skills aced!
8. How much does a complete kiteboarding package cost?
Kite gear varies depending on the model/make and season of the equipment. We try our best to offer individually suited packages with the best deals possible. To get an idea, NEW Packages start from $3-4K. PRE-LOVED Packages can offer great savings if you are willing to forego warranty and brand-new items. We also offer the latest and the greatest high-end equipment with outstanding engineering and the newest specs – contact us for a quote and to pick our brains about our diverse range.
Check out our Kite Packages, Kite Sale range, and Pre-Loved Gear options.
9. I'm not ready to go out alone, what should I do?
It's understandable that it may take some time to feel comfortable out on the water and we always recommend going out with another kiting mate. To help meet make this easier you can join Melbourne's most active Watersports Community through the KR CLUB. Come along to Club Night where you will meet an awesome group of like-minded people ready to join you for a kite session. KR CLUB also organises Ride Days, Camp Weekends, International Escape Tours, Snow Kiting Tours, Clinics and more!
You can also stay up to date on our Facebook and Instagram for Club events and info
10. Do you offer lessons for kiteboarders who want to improve their skills?
Yes, here at KR we have a range of experienced instructors to help you learn or improve new skills and achieve new goals and tricks. Contact us to book a Progression Lesson or to organise a Headset Coach lesson.
Always feel free to reach out if you have any more questions. Looking forward to seeing you out there on the water!